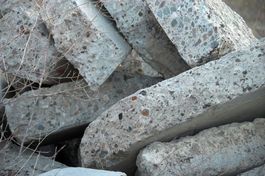 Concrete is cool stuff. It holds up buildings, it holds up bridges, it holds up houses and you can write your name in it. When my friend Dave and I put a support beam in my basement I learned a lot about concrete. First, it's heavy – I hauled 90 sixty-pound bags down the stairs. Second, concrete won't harden properly if it's too soupy or too dry. So, until you use it, you need to monitor it and add a little water or a little concrete, and you have to keep mixing. Lastly, you have to work fast, because once you stop mixing, the hardening process begins.

Working with students is just like working with concrete.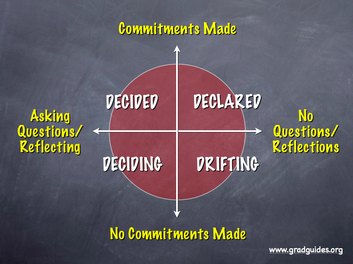 No, not that they can be blockheads sometimes, but that their views and values, which they will carry into adulthood, will start to harden from age 18-25. There are four states in the "hardening process" of how our students view God and life that we need to monitor if we want them to develop a strong identity.
The critical work required of our students' in order to solidify their views and values properlyfrom 16 - 25 is that they engage in reflective thinking and making commitments as to what they believe and how they will live. We can play a huge role in facilitating their growth in this process by simply asking what they think, listening and processing their thoughts with them.
The Four D's of the Hardening Process*
•
DECIDED
- This person is like hardened concrete. The number of students in this state at age 18
who have worked out what they believe on all the big issues is very rare. However, there may be several foundational beliefs (salvation, who is Jesus, etc.) that they have thought about, reflected on and become personally convinced of themselves.
What does this student need?
Ask them what they think:
"You seem pretty convinced of __________. Why do you believe that?"
As they describe their process of thinking, doubting, studying scripture and then coming to a conclusion, affirm their work. If you disagree with their conclusion, wait 24 hours (more later as to why), pray and say something like,
"I've been really thinking about what you said yesterday. I can see why you believe….. What do you think about…?"
•
DECIDING
- This person is like concrete that is "almost right"; the ingredients are just about balanced and mixing is consistent. They are doing the work of thinking, reflecting and maybe even wrestling with their beliefs about God and life, but have not really arrived at a conviction yet. This is a great and natural place for your students to be. This is the season of life, especially in college, when many students are putting together and re-working their beliefs.
What does this student need?
Ask them what they think:
"It sounds like you are not sure what you think about ______________. I'd love to hear what you're thinking about."
If they open up, thank them for confiding in you and affirm them in their work of sorting out what they believe. Let them know you're available if they have questions.
•
DRIFTING -
This person is like cement that's too wet; it doesn't set up. They really aren't interested in doing much thinking or reflecting about God and life and aren't really trying to develop convictions. The are "going with the flow" and letting others around them influence what they think and how they act. They are being defined by others. There is a good number of our students in this state of the process.
What does this student need?
Ask them what they think:
"I haven't seen you around much lately. What are you thinking these days about your relationship with God?"
Give them a chance to be honest with you, but be careful not to judge or correct them, just listen for now.
•
DECLARED -
This person is like cement that's too dry; it's too rigid. They are articulate and even passionate in declaring what they've been taught, but have not done very much thinking or reflecting about what they believe. They haven't wrestled with their beliefs much to arrive at their own convictions. This group is small numerically and honestly, are hard to differentiate from the
DECIDED
group because their belief is more out of compliance than conviction.
What does this student need?
Ask them what they think:
"You seem pretty convinced of ____________. Why do you believe that?"
If their answers seem simplistic or not well thought through, pose a question an unbeliever might have on the topic and see how they respond. Your goal is to get them to think and own their belief from their own research or process.
What state of the "hardening process" would you say your students are in? When I teach this content to high school students in my seminars I always give them the opportunity to assess what quadrant they think they are in. Maybe you can help your students do the same.
*(Thanks to developmental psychologist James Marcia for his work on adolescent identity formation which provided the initial framework for my ideas.)