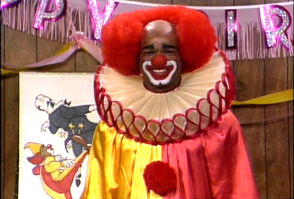 So Christ himself gave the apostles, the prophets, the evangelists, the pastors and teachers, to equip his people for works of service, so that the body of Christ may be built up until we all reach unity in the faith and in the knowledge of the Son of God and become mature, attaining to the whole measure of the fullness of Christ. Then we will no longer be infants, tossed back and forth by the waves, and blown here and there by every wind of teaching and by the cunning and craftiness of people in their deceitful scheming.
Ephesians 4:11-14

God wants us to grow up and become mature. He wants us to be adults in our faith. Moving from adolescence to adulthood, however, will require the courage of a clown.

My favorite line from this video is, "Homey may be a clown, but he don't make a fool out of his self." Homey is definitely not afraid to say "no". Our students will need Homey's kind of courage if they are to become adults in their faith. Christian counselor and author Dr. Henry Cloud, in his book Changes That Heal, talks about becoming an adult:

"Everyone who has ever lived has encountered a particular problem: being born a little person in a big person's world and being given the task of becoming a big person over time. We are all born children under adult authority, and over time we are to become authorities oursleves and be in charge of our lives."

To become adult authorities our students will need three kinds of courage.

1. The courage to distinguish themselves from other authorities.

In college students face three competing authorities: their professors, their peers and their parents. Authorities want to influence what they do and think, which can be both good and bad. What our students need is the awareness and ability to stand on their own feet and become their own authority in the face of others. And to do that they will need a particular expression of courage.

2. The courage to say "I disagree" or "No thank you" to other authorities.

The journey our kids are on is the road to Adulthood. God wants them to have more and more authority in their lives and to do that they will need to exercise their Disagreement Muscles. Again, hear from Dr. Cloud:

"Parents and other authority figures don't belong on pedestals. Be aware of their strengths and weaknesses as well as the ways that you disagree with what they believe and think. Make sure you have freedom of thought and do not make yourself 'bad' for your opinions. Disagreement is healthy – 'iron sharpens iron.'"

As student stumble through learning this new skill they'll need to remember one thing. Disagreeing with others involves taking into consideration what they say and how they feel, but showing the courage to express a different opinion. Disagreeing with others should be done in a respectful, not rebellious manner.

3. Courage to be different when they feel the disappointment from other authorities.

In some situations as soon as a student tries to politely disagree or say no (like declining to go to a party) they'll hear the same ol' chorus: "Oh come on. EVERYBODY is going…" What is happening at that moment is a mini Sumo Wrestling throw down, without the XXXXXL diapers. One authority feels challenged and is challenging right back. Learning to anticipate the disappointment of others and not be swayed by it is a valuable skill for our kids to learn.

What are some ways you can encourage courage in your students? Do they have the freedom to disagree with you, or do you think they're afraid to not give you the right answer?

Help your students get in touch with their internal Homey.